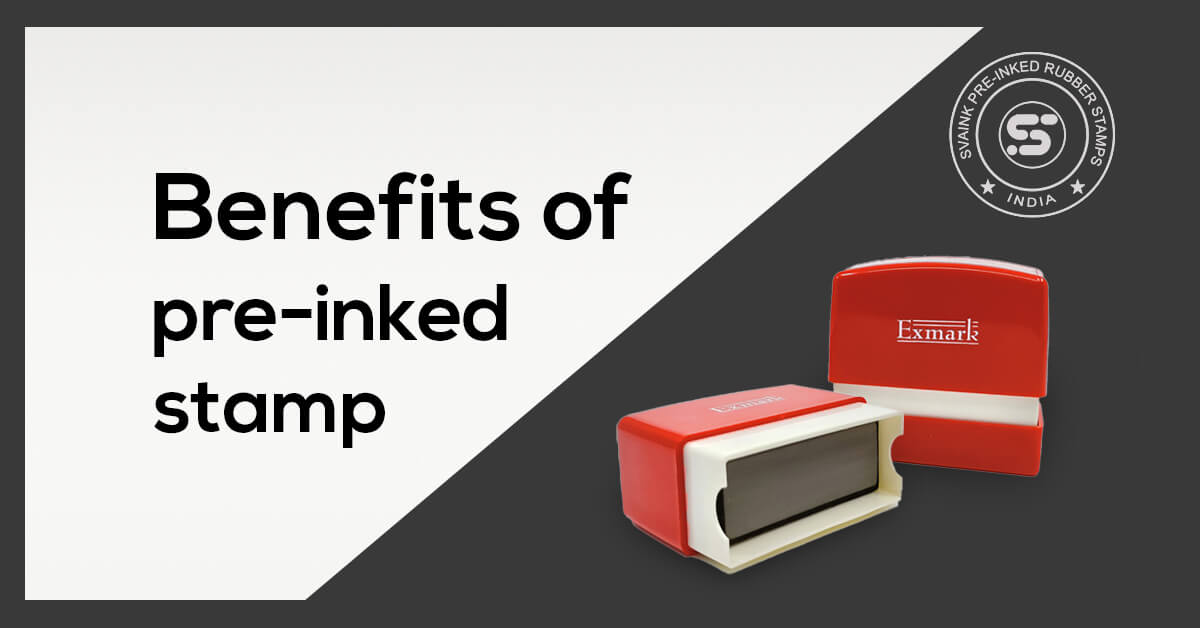 Table of Contents
The pre-ink stamp is one example of a little instrument. Yes, this small product can spare us from repeatedly writing the same thing. When it comes to any workplace, efficiency is an important word. Every firm aims to produce the most in the shortest amount of time. Since it is the only way they can continue to outperform the fierce competition. Although basic competency is crucial in whatever we do, there are always little aids and accessories that assist us to be more effective. 
Making a good impression in all spheres of life, but particularly in the professional one, is another problem. The days of using dated pre-ink rubber Stamps that leave smudged, unreadable impressions are long gone. Today, you can find a high-quality pre-ink stamp, eliminating the need for a separate stamp pad while getting consistently crisp prints. Pre-inked stamps can be refilled and used for tens of thousands of impressions.
Making pre-ink stamps online is simpler, and you can have them delivered to any location in India in a few days.
Different kinds of pre-ink stamps used in the workplace 
Stamp with the company name and address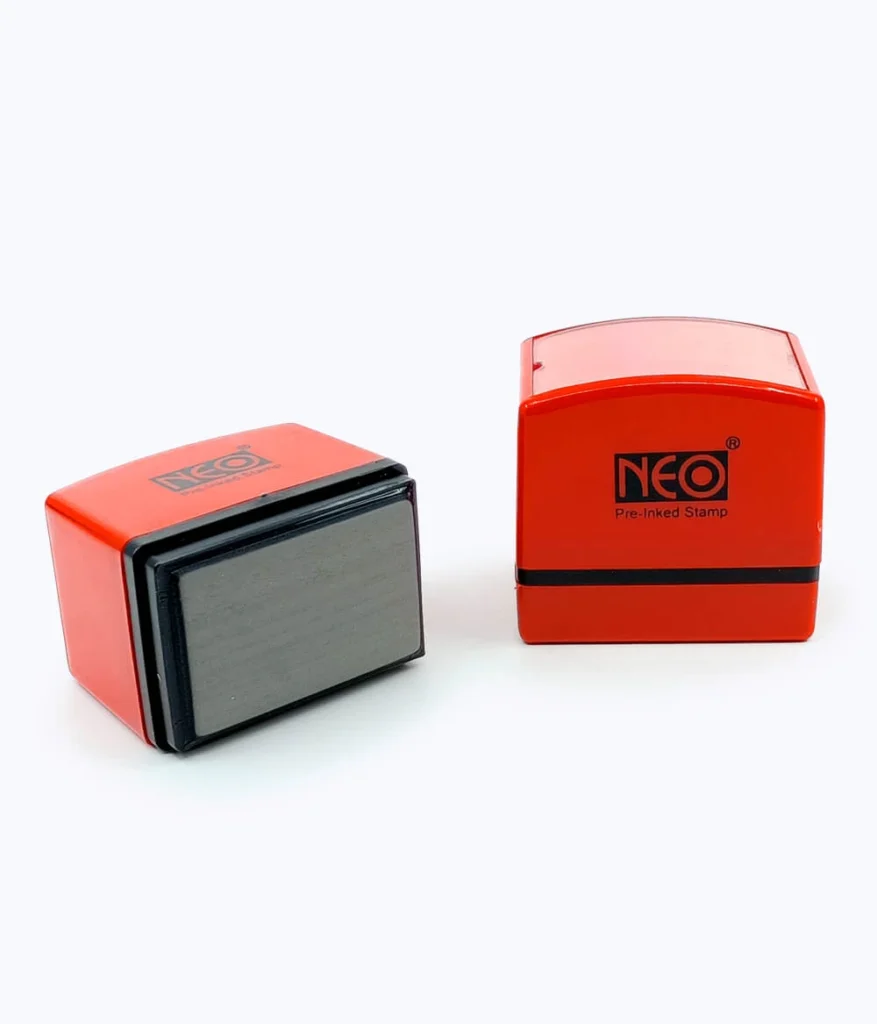 On various items, including envelopes, forms, letters, etc., businesses must provide their Company Name, Address, CIN, GST No., etc. They all have pre-ink stamps or which help to prevent repetitive writing and produce print-like imprints.
Stamps with dates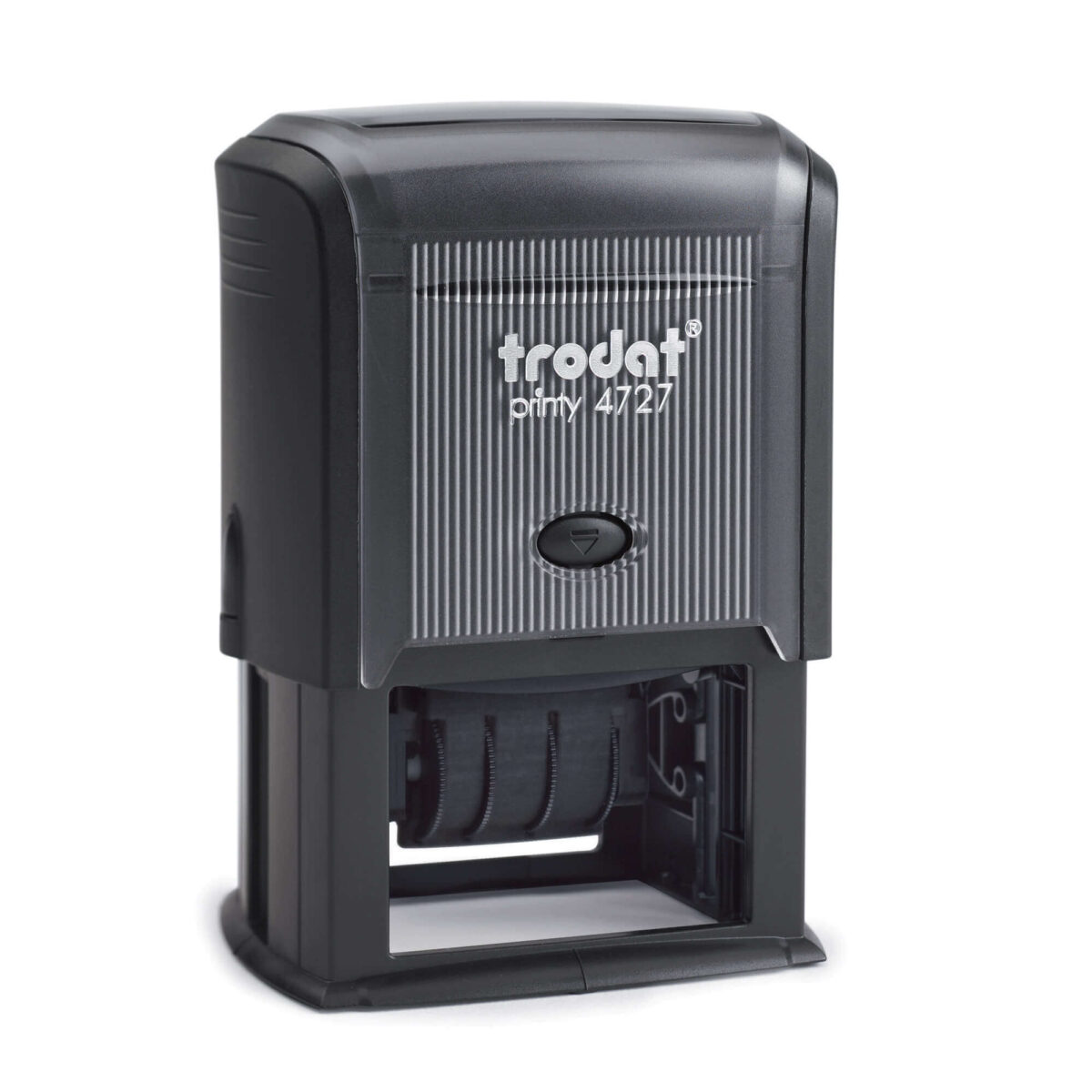 We all deposited cash and checks at the bank, and the bank teller stamped the pay slip, which has a fixed date in the middle, and other fixed information all around. These are dater stamps, often known as date-changeable stamps. Self-inking dater stamps and dater stamps are the two types of dater stamps. In the former, a separate Stamp Pad is not necessary, however in the latter, one is.
Pocket  stamps
Another essential item for CEOs and business people on the go is this. Pocket stamps are offered in the Pre-Ink stamp and are available in a range of sizes to meet your needs.
Benefits of stamps in workplaces
There are different fields and workplaces that require stamps and choosing the right stamps as per our requirements is very crucial. Some of the places where stamping is necessary are
Clothing Marker Stamps for Product Branding
Do you have a business of your own or do you sell your products in Online stores? If so, you could be searching for a rapid and reliable method of imprinting your name or logo on your items. Stamps for clothing markers are ideal for that form of branding.
For instance, if you offer distinctive T-shirts, simply stamp your logo where the tag usually is on the back of the garment. You can completely do without uncomfortable tags if you utilize many stamps. Tagless labels result in contented, cosy clients!
Small business owners
Long hours are a part of owning a small business, and you frequently have to do the tasks that other larger companies delegate to separate staff. Along with being the CEO, you are also the marketing director, the director of social media, the director of the customer service, and so on. Your responsibility is to provide your customers with an outstanding experience that encourages repeat business.
To keep your small business going and running effectively, you must be organized and have access to all necessary resources. Pre-ink stamps, especially return address stamps, might be of great use with this.  
You most certainly have a branding strategy if you own a firm. Your return address or mail, in general, may need to reflect the fact that your company has conventional and classic values if that is what you're seeking to portray. You can ensure consistency with everything from your social media presence to the smallest detail like your return address on the mail you send to clients and potential clients by using personalized return stamps that are oriented toward that and represent your identity.
Corporate spaces
Even though almost all documents are available in digital form, many businesses still use printed materials. As our reliance on computers grows, so has the amount of paperwork. Therefore, maintaining document organization is a big burden.
Although you could hand-write comments on the page, using a stamp gets around the problem of not being able to read someone else's writing. The final sheet of paper you stamp will be equally as clear as the first if you do it on numerous sheets of paper. If every piece of writing is done by hand, it is unlikely to be the case.
You can label each piece of paper with your stamp so that you know where it belongs. You can make things simpler for yourself in the business sector by using pre-ink stamps with single words printed on them, such as Paid, Sent, or Replied. Self-inking and pre-inked stamps have the amazing ability to let you stamp anything as long as it keeps you tidy and stress-free.
In educational institutions
Positive reinforcement goes hand in hand with general motivational strategies, of course, because children's demands are very different from adults. Children are far easier to encourage and motivate than adults are. Small rewards are frequently adequate.
Many educators are familiar with the traditional idea of the "gold star," which rewards students for their efforts if they successfully answer a question, finish a task, arrive on time, or perform any other desired task. The same effects can be obtained by using a pre-ink stamp.
You can encourage your child's or a student's efforts by adding various signs to their classwork or homework using a variety of motivating pre-ink. A "Good Job" stamp, an "outstanding" stamp, or even just a star for effort will all motivate kids in the future.
Customizing personalized pre-ink stamp
In addition to giving whatever piece of mail you send out a personalized touch, personalized address stamps can also save you a tonne of time, hassle, and money. How, therefore, can you pick the ideal pre-ink stamp for you? 
The Foundations of Your Custom Address Stamp
Let's start by talking about what your customized address stamp ought to do.
It needs to have all of your pertinent address information (first name, last name, and address)
It needs to be simple to read and understand (nobody wants to play the guessing game of who sent them mail)
It should reflect your personality.
It ought to meet your requirements (personal or professional)
The spelling needs to be accurate. There are several options available when obtaining a personalized address stamp, and some are better than others depending on you and the purpose of the personalized address stamp.
Choosing a font
The most crucial point to keep in mind when selecting a font is that it must be readable.
Cursive fonts are regarded as feminine, graceful, and traditional.
Bold, more casual/personal fonts that are thicker and block-like are recommended for personal use.
Choosing a Color
There are numerous customizable address stamps available with various ink colours. Black, red, green, blue, pink, purple, orange and brown are common choices. Black is always a good choice when dressing professionally. However, choose a brighter colour if you want to stand noticed. You might also choose a hue that is linked to the type of business you are in. 
Additionally, if your brand has specific colours, you can decide to use the same colour in your customized address stamp to create uniformity in your correspondence.
Choosing a Shape
In general, round shapes are linked to femininity, gentleness, and calmness. If you are utilizing this for professional reasons, your company would be a good fit if you work in a more artistic industry like wedding planning, floristry, or baking. Additionally, if your business is headed by a woman, this can be the greatest option for you.
Rectangular shapes are thought to be masculine, orderly, structured, no-nonsense, and traditional. Rectangular may be a better option if your business is more formal and structured, such as accounting, business planning, etc.
Conclusion
Custom-made pre-ink stamps enable you to leave your imprint on virtually any surface, quickly add individuality, and boost brand recognition. If you run a business, you should be aware that your logo reflects your brand, personality, business, and self. It should be appropriate for your line of work and reflect favourably on you to the customer. Before setting anything on top of freshly stamped mail or lying mail or letters facedown on any surface, make sure the ink has enough time to dry. Smears lack professionalism and aesthetic appeal, and it is doubtful that the recipient of such correspondence will be able to identify the sender. 
There are a few different kinds of unique pre-ink stamps available. The various types of stamps differ in several ways. Some stamps have a wide range of possible uses. There is a pre-ink stamp made for more particular uses. Knowing what kind of stamp you need can help you avoid wasting time and make the marking procedure simple and effective.