Table of Contents
Office stamping supplies
Even if businesses are increasingly turning to the internet for solutions to common issues, a lot of the required offline work still takes the same amount of time as it always has. Office stamping supplies are practical tools that can help with this because they can keep consistency with the required paperwork in your business while also saving you time.
If you work in an office, you are aware of how much of your day can be taken up with tedious, repetitive duties. It's crucial to streamline your operations wherever possible to increase production. Just consider what you could do with all the time you currently spend approving proposals, routing paperwork, and dating paperwork. Fortunately, employing stamps in your business may reduce repetition, maximize consistency, and save time.
Custom-designed stamps can be helpful for a range of office tasks, and depending on your requirements, you might even be able to utilize them in several ways. Office stamping supplies can improve your effectiveness and consistency if your work process entails anything from routing paperwork to signing significant documents.
Office stamping supplies can be used in different ways in an office
It's crucial to have a recognizable seal of approval on documents when they need to be evaluated by multiple parties, and what better way to do so than with a rubber stamp? Representatives of the company will be held responsible for the job they are putting their name on if it has a literal seal of approval. In this manner, no one will overlook a step in the procedure when paperwork is transferred between departments.
The distribution of personalized signature custom designed stamps to each department manager is an excellent approach to establishing accountability while routing paperwork. This makes it simple to identify who approved each process stage, from purchasing to accounts receivable. Alternatively, if a team of employees is authorized to sign documents, try using a stamp that represents the group as a whole.
If a substantial chunk of paperwork in your firm requires a signature, you can use a signature custom-designed that you design to make day-to-day chores more efficient. Handwritten signatures can be tedious and repetitive, and they also don't take the signee's absence into account. When you are not in the office, you can outsource the task of signing checks, agreements, and other papers to someone you trust by utilizing a personalised signature rubber stamp.
Custom date rubber stamps simplify tracking in firms where documentation must be completed by a certain deadline. At the start of each day, just rotate the bands and set the date, and you're ready to begin stamping bills of lading or permits. To make the date pop out on the page, you can even use vibrant ink. A date stamp can help personnel in your workplace who must repeatedly write out the date by saving them time and effort.
Document approval and notarization
In a particular organization, only a select few people often have the authority to approve documents. You may ensure that only individuals with the right to sign off on licenses, contracts, or permits by using personalized stamps. To determine who was in charge of each piece of documentation if numerous people in your workplace need to evaluate it, you can design unique personalized stamps for each person.
Notary stamps and seals will give the documents you notarize validity if you have licensed notaries working in your business. Just be sure to verify with your local government to make sure your custom notary stamp has all the appropriate information on it.
Office Stamp Types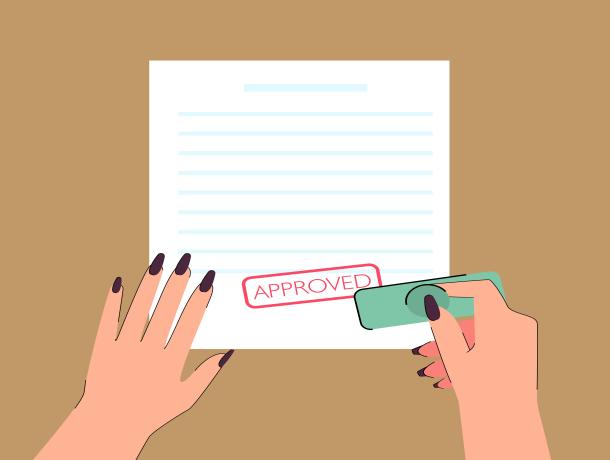 Although office stamping supplies are useful in any workplace environment, it's critical to select the appropriate stamp for the task at hand. Whether you're looking for a simple pre-inked rubber stamp to reduce time-consuming activities or a personalized, pre-inked rubber stamp for approving contracts.
Pre-inked rubber stamps are the most affordable choice with their in-built inks. They come in many varieties. When little customization is required, pre-inked rubber stamps are an easy alternative for routine approvals.
Up to 50,000 impressions can be obtained from pre-inked rubber stamps before they need to be re-inked, making them a durable solution. These high-quality stamps may be tailored to meet any requirement, making them ideal for signatures, seals of approval, and more. Premium, long-lasting pre-inked rubber stamps are made of sturdy plastic and rubber.
Nothing compares to a classic wooden handle stamp, especially when it's tailored to your particular requirements. These stamps allow you to alter the colour with various ink pads, which not only gives your paperwork a fun dimension but also aids in keeping you organized with colour coding.
Self-Inked custom designed stamps
A self-inked rubber stamp is an ideal instrument for the task if you need to quickly stamp dozens, or even hundreds, of sheets. You may stamp documents without pausing to strike your stamp pad each time thanks to built-in ink that lasts for hundreds of impressions before needing to be re-inked. You may route papers in a neat, practical, and effective manner using these office stamps.
Inventory sheets, invoices, and other documents can be uniquely coded with number custom designed stamps. For a less expensive choice, you can select a stock number stamp; alternatively, you can customize your own unit with any alpha-numeric character you require. You can preserve accuracy and consistency while also saving time by using a stamp to number items.
One of the most frequent uses for a business stamp is to rapidly stamp an envelope with an organization's return address for simple mailing. The recipient of the message will immediately recognize the sender if you use a return address stamp, and if the communication cannot be delivered, it will be returned to the sender's firm. Given that you may reuse the stamp, this is more environmentally friendly than return address stickers.
A cost-effective technique to give products a professional mark is to brand them with the company logo and tagline. Without investing any extra money, this can be a helpful tool for branding presents or certificates. Event name badges, gift bags and hand stamps can all be marked with company stamps.
Office stamping supplies with thoughtful logo designs offer a fun way to interact with your customers. You can select a stamp that expresses how you want to be viewed, such as stating that you are a vintage furniture company or giving the idea that you are a legal office with a polished appearance.
Put a stamp on your brochures, stationery, gift bags, packaging, tissue paper, and other products. Each can be imprinted with your brand's logo, a call to action to follow you on social media, your website URL, or both. An administrative desk or department directors may also use an executive desk embosser. The final touch that persuades a potential customer to choose you over your competitors may be sealed embossing.
Conclusion
Office stamping supplies can be used to do tasks more quickly and effectively, whether you're signing documents or adding order numbers to invoices. In any office, stamps can be a useful tool, but they're especially helpful in settings where lots of documents are exchanged or thorough records need to be kept. You may design your own stamp, which is produced to order to meet your unique requirements. Company custom-designed stamps can be used to simplify a variety of activities and provide documents with a polished, expert seal.
Pre-inked rubber stamps are practical ways to look professional while saving time and money. Instead of taking the time to carefully write out dates, addresses, and other information, these office stamping supplies can complete their work more quickly by employing stamps that are specially developed for specific tasks.
FAQS
How are signature stamps used?
A customized signature rubber stamp is used to sign checks, agreements, and other documents.
How are office stamping supplies helpful?
Instead of taking the time to carefully write out dates, addresses, and other information, these offices can complete their work more quickly by employing office stamping supplies that are specially developed for specific tasks.
How are logo stamps beneficial?
Branding things with the corporate logo using a logo stamp is a practical way to give them a professional appearance.
How are pre-inked stamps affordable?
With their built-in ink, pre-inked rubber stamps are the cheapest option. They have numerous variations. Pre-inked rubber stamps are an easy choice for routine approvals when little customization is needed.