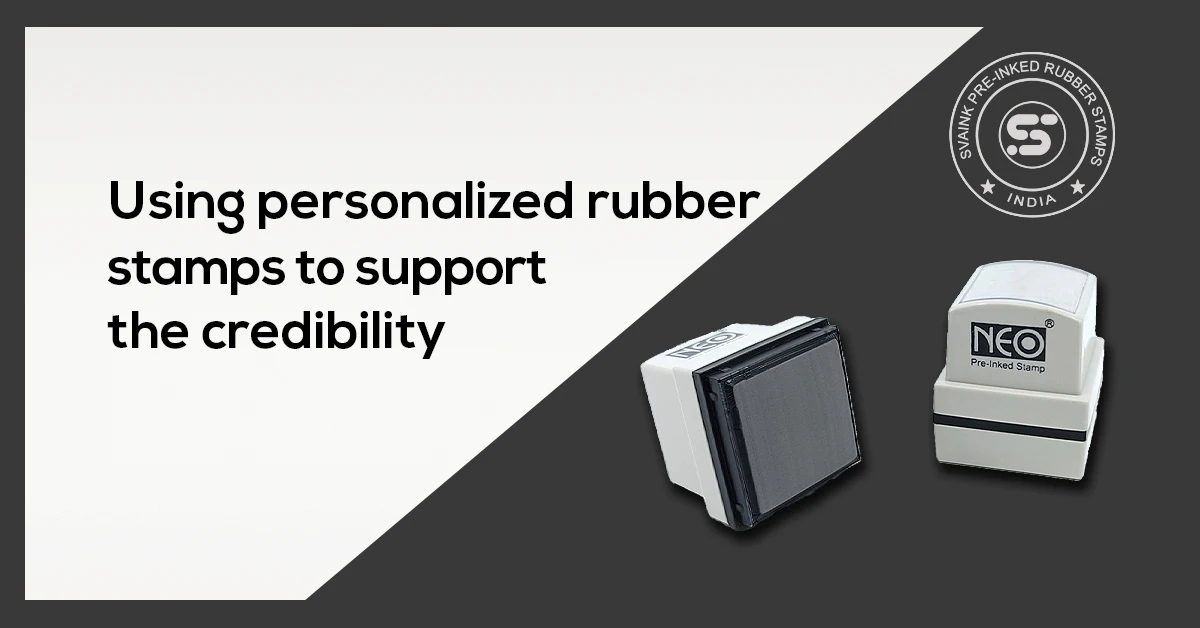 Table of Contents
Business validation can begin with a personalized rubber stamp; it doesn't have to be particularly sophisticated. You can use a custom pre-ink stamp to make distinctive endorsements, identify branded things, and imprint other company information on paperwork and products.
Authenticity is the main concern of every small business owner. You probably founded a business to sell your original works of art. Therefore, using personalized rubber stamps ensure that your intellectual property is secured. Be vigilant about using the appropriate technologies to authenticate your company to prevent everything from check fraud to counterfeit goods or papers.
Using personalized rubber stamps to support the credibility
There are different categories of personalized stamps that you can choose from: 
For document signing, signature stamps are created specifically to mimic your handwriting. Make an instant impression on paper by creating a stamp by uploading your signature to a stamp maker.
Architect custom pre-ink stamp 
An architect custom pre-ink stamp is required if you are an architect or work for a construction or architectural firm.
Using personalized rubber stamps bearing an architect's seal verifies the legitimacy and oversight of architectural papers. 
An architect's custom pre-ink stamp is essential for authenticating architectural documents. These stamps can be applied to sketches, documents, reports, and drawings for use in construction and design.
Based on where you live or operate, choose your architect's custom pre-ink stamp. All architect stamps are made to comply with the most recent state laws.
Along with drawings and sketches, documents that can be stamped include feasibility, idea, and design studies.
Documents pertaining to architectural projects may be stamped exclusively with a personalized architect rubber stamp. 
custom pre-ink stamp for architects leave a clean, expert imprint and are available in a variety of styles.
Add your name and phone number to the architect seal stamp to further personalize it and highlight all critical information.
With personalized architectural stamps, you can authenticate all of the designs and papers and leave a precise, expert impression.
A quick and easy method to customize a diary is by using personalized rubber stamps.
Personalized pre-ink stamps used in journals 
Personalized or custom pre-ink stamps are a quick and inexpensive method to embellish your journal or add helpful information. Because they use dotted or blank pages, they are especially useful for bullet diaries. You have a greater ability to experiment with the appearance of your journal and incorporate different designs with the additional layout freedom afforded by this sort of format.
For journaling, common personalized rubber stamp patterns include:
The weekdays and the month
Illustrations of animals and flowers
Letters
Symbols like arrows
Custom stamps and craft stamps are great for journaling. Wood handle stamps are perfect for journaling since they have the most stamp sizing options and allow the user to switch between ink colours.
Monogram and inspection stamps
Initial stampers are ideal for personal and professional use. These stamps make it simple to finish sheets or add a personal touch to stationery. Monogrammed custom pre-ink stamps and inspection stamps fall under the umbrella term "initial stampers."
A custom pre-ink stamp for inspection makes it simple to mark goods and documents to indicate that they have been examined and authorized. When personalized to correlate with each inspector, they can serve as coding or initialing stamps as well. This ensures that your inspections are accountable.
Your letters, mail, and other materials will have a distinctively personal touch thanks to monogram stamps. You can choose from more elaborate designs with your name, address, and/or an image in addition to the most straightforward monogram stamp, which only includes your initials. There are also monogram embossers that can be customized with your initials.
These initial stampers or embossers make wonderful presents for special occasions like weddings and housewarming parties. You can choose from and modify a variety of monogram stamp and embosser designs that are available.
Custom pre-ink stamps, such as date stamps, are a frequent and inexpensive workplace tool since they speed up regular tasks. People sometimes fail to check how many dates are left on their stamps before placing a fresh order, despite the fact that they are supposed to last at least ten years. Unlike conventional stamps, date stamps have moveable bands that can be adjusted for the year, month, and day. They offer a quick and simple method for regularly adding the date to bills, shipping papers, food packaging, and other paperwork.
Using personalized rubber stamps is an excellent marketing tool. By putting your logo or company name on a stamp, you may brand a document and make it apparent to potential customers. Instead of using personalised letterheads, why not stamp your company's catchphrase at the top of documents? Small marketing methods like this might help your firm get recognition and attract new customers. When mailing letters, include your name on the envelope so the recipient knows who it is.
Benefits of personalized custom pre-ink stamp 
Custom pre-ink stamps not only make work a little bit more enjoyable without a separate ink pad, but they also help you stay more organized. 
You surely deal with a lot of paperwork as a business, and keeping it all organised can be difficult. A custom pre-ink stamp can fix this problem.
You'll be able to mark each piece of paper with your stamp so you'll know where it stands. Since business life is hectic, make your life easier by keeping a custom pre-ink stamp with simple terms like PAID, VERIFIED, or RECEIVED. That's the appeal of using personalized rubber stamps you can put any wording on them that will make you feel more organized and stress-free.
Conclusion
Using personalized rubber stamps is an excellent promotional tool since they help consumers remember your brand and serve as the face of your company. There's no reason not to add these useful little devices to your desk, and with so many models on the market right now, you'll be able to find one that matches your needs. They are also fairly affordable.
FAQS
What is the use of a custom pre-ink stamp for journals?
Custom pre-ink stamps are an easy and affordable way to personalize your notebook or provide useful information.
How is a custom pre-ink stamp beneficial?
Without a separate ink pad, custom pre-ink stamps not only make work a little more pleasurable, but it also keep you more organized.
How can personalized rubber stamps benefit a business?
Having a stamp personalised with your company name or emblem will help you stand out to new potential customers.
What is an architect's custom pre-ink stamp?
The legality and oversight of architectural papers are confirmed with a special pre-ink stamp bearing an architect's seal.