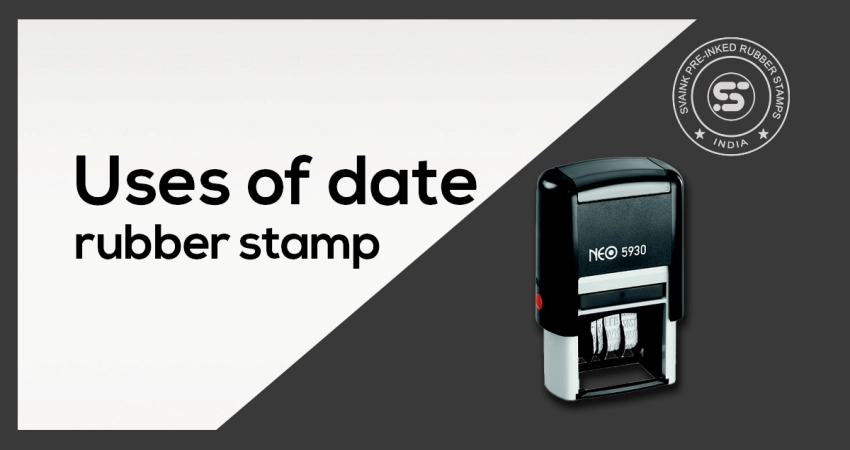 Table of Contents
What is a date rubber stamp?
A date rubber stamp is a tool that marks documents with the date of receipt and other crucial details to indicate when a specific action, such as reading, finalizing, or paying, was taken.
These tools enable you to quickly determine when an action has been taken by summarizing the activity of a certain file. Applying date rubber stamp to your files will eliminate the need for you to sift through thousands of pages to determine whether a request has been actioned.
Benefits of date rubber stamp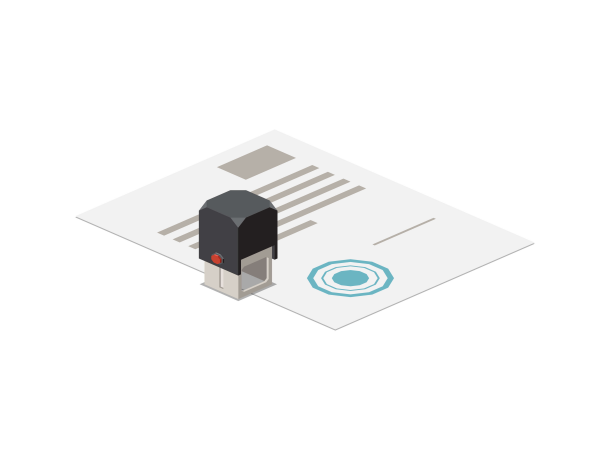 Contrary to appearances, businesses need more and more filing and documentation,
Necessitating the use of a date rubber stamp of high quality. These amazing tools make adding the date to every page faster and easier because it can take a lot of time.
You won't need to pore over a gazillion pages to determine whether every item in the file has been completed. With this straightforward approach, you can expedite your job while increasing productivity.
Date rubber stamp increase work productivity, as was already noted in the preceding point. Eliminate the tedious chore of manually writing the date.
The day, month, and year may simply be moved with your hands. To use this item, simply tap it on your page. Since it is done swiftly, you won't have to spend extra time manually entering the date.
To get the greatest date rubber stamp for your business, you can pick from a huge variety of devices. You can anticipate that all of your paperwork will be handled efficiently so that you can stay on top of things and maintain your business organized.
You can select a choice that is suited to your particular demands for your business from this wide range of date rubber stamp that is available in the market. Using these date stamps will expedite the processing of your files. You can ensure that everything is maintained up to date by using the most efficient tools.
There are several methods for keeping your files legible and valuable to your company's productivity. Date rubber stamps can be used in any industry that seeks to increase efficiency and streamline activities.
Dated documents can be stored chronologically in an accounting department or general office, making it easier to find them later. Warehouses all around the country can mark delivery or shipment dates.
A date rubber stamp aids in the organisation of busy environments such as banks, libraries, and retail enterprises, whether through checks, loan tickets, or loyalty programmes.
Different types of date stamps
You can select one of our various date rubber stamp kinds based on the intended purpose and frequency of the date stamp.
Pre-inked and self-inked date rubber stamps
These pre-inked rubber stamps are made to manage the date stamping that is used frequently. This date stamp is made of sturdy metal, and its self-inking capabilities allow you to keep up with expanding demand. Before needing to be re-inked, these stamps may create many thousand impressions. These pre-inked dater rubber stamps can be metal or lightweight standard plastic ones.  Because they are portable and lightweight, these plastic pre-inked dater rubber stamp is great for travelling. You do not need to bring an ink pad with you thanks to the pre-inking feature. You can refill the integrated ink pad as necessary. Additionally, these dater rubber stamp is effective for a large number of impressions.
Pre-inked rubber stamp mounts are perfect for quick, repetitive stamping since they re-ink the rubber dye into a self-contained ink pad before each imprint. Wherever a date is required—at work, school, home—keep a dater nearby.
The self-inked and pre-inked rubber stamp daters are simple to use and can produce thousands of impressions without needing to be re-inked. Pre-Inked rubber stamps and self-Inked dater rubber stamp is available in a variety of date bands, colours, and font styles.
Classic wooden date rubber stamp
These are a solid option for any price range. They are long-lasting and mounted on a sturdy metal frame, with a wooden handle, and need a stamp pad. These date stamps can be altered. You can quickly switch ink colors if you have a second stamp pad.
Choose between rectangular and circular imprints, large or small sizes, and pre-made or bespoke designs. For high-volume stamping, light and portable methods for inspections, and anything in between, you may find a customized dater here.
Application of dater rubber stamp
The date can be easily marked on invoices, mail, bills, time cards, receipts, and other critical documents using an interchangeable dater rubber stamp.
 They work best for quick repetitive stamping and are excellent for document organization. Date rubber stamps help users arrange crucial documents, which boosts productivity and efficiency for your company. They are utilized for various kinds of files and documents. These date stamps are reasonably priced, strong, and expertly crafted.
An ink pad that is integrated into the dater's frame in self-inked and pre-inked rubber stamp daters automatically re-inks the stamp after each impression. When the date stamp is depressed, the dater imprint flips off the ink pad and stamps downward on the surface to be marked, consistently creating a sharp image.
Applications for date stamps:
Payment of bills
Paperwork for shipping and receiving
Manufacturing and component inspection
Food container
Documents entered or scanned
Sent or received mail
Documents sent through fax or email
Designing a rubber stamp for your business 
Choose the size of the stamp with the right amount of lines for your design after selecting the range you require. Additionally, you can create or select the imprint's shape. Either choose the stamp that best fits your demands and designs your custom stamp after choosing the appropriate stamp size. It's very simple to get a stamp with your company's logo. Simply add your wording, upload your design, choose the ink colour, and select the right stamp type and size using the wizard.
Using an address stamp is the simplest approach to brand a document with the company's motto or emblem. Because the top of every letter may be stamped with your slogan, you won't need to purchase personalized letterheads. Clients can recognize your messages more easily thanks to the logo on the envelope's exterior.
Your branding will strengthen as more people become familiar with your logo and brand. If you have a positive image, you can build more effective marketing strategies using a subtle approach. It will not be difficult to gain the trust of your clients or potential targets and win the market if you approach them in this manner.
One of the many benefits of address stamps or date rubber stamps is the possible cost savings. If you get these things printed on a stamp, you won't need to pay for printing costs. Self-inked and pre-inked rubber stamps are significantly more affordable.
A decent ink stamp pad is substantially less expensive, which is advantageous given the rising cost of living. It's also vital to take the future into account.
It only takes ordering a new logo with your updated information if you're utilising custom address stamps or dater rubber stamp, which is a far more affordable option.
Changing a date rubber stamp
You can rotate the bands to get the date you need to display when using the date stamp.
It could be used to commemorate the day you completed some work or received something.
Date stamps are frequently used in many fields, which you change to a date in the far future.
Depending on the model chosen, date rubber stamps may additionally feature text or a small graphic. A word or two may be placed to the left of or above the date in some models.
Then there are designs that have space above and below the date and allow for text to be placed twice as well as a border.
Conclusion
Date rubber stamp provides many benefits that can enhance your business' productivity. They make it easier for you to action your files by streamlining the status of a document. They are of the highest quality, are simple to use, and are vital to businesses. You may quickly adjust the date to reflect the current time, ensuring that all of your papers are up to date. Your work process is made more convenient by a dater rubber stamp. You'll be able to prioritize the important tasks above the less important ones. As a result, your firm will become more productive, which will improve the caliber of your enterprise. Utilize these tools to stay updated with the situation.
FAQS
What is a date rubber stamp?
The date rubber stamp has a movable band and offers a quick and simple method for regularly adding the date to bills, shipping papers, food packaging, and other paperwork.
Why is the date stamp important?
A date stamp is crucial because it keeps the records and bills organized based on the dates.
How do date stamps work?
Unlike conventional stamps, date stamps have moveable bands that can be adjusted for the year, month, and day.
How long does a date stamp last?
Date stamps can be used for a very long period of time, and are cost effective.