Table of Contents
You can create a unique identity with pre-inked rubber stamps by utilizing them in businesses, brands, or creative expressions. Additionally, there are also personalized wedding stamps as well as stamps for weddings, crafts, and personal gifts. If you want your correspondence to stand out then personalized pre-inked rubber stamps for your company are a great way to create a unique identity for your company or your product. 
Types of pre-inked rubber stamps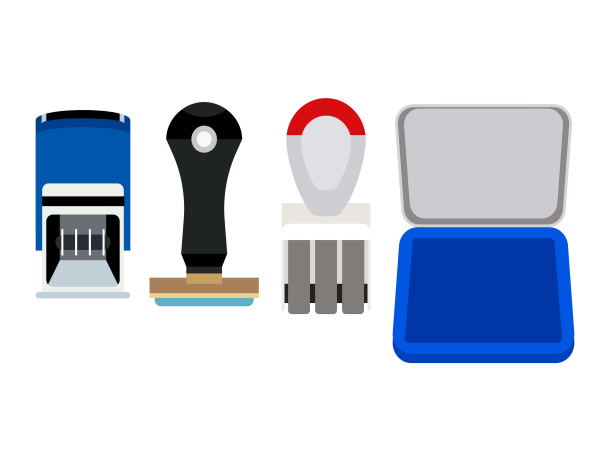 However, because there are so many various types of rubber stamps, choosing the correct one for you may be challenging. The three most prevalent types of rubber stamps are as follows:
Wood-mounted rubber stamps
Self-inked rubber stamps
Pre-inked rubber stamps
The classic wood-mounted rubber stamps will need a stamp pad for stamping while for a pre-inked stamp and self-inked rubber stamp, you don't need a separate ink pad because it has an ink pad integrated right into it. Simply place your paper under the stamp, and it will print your return address or other information in a clear, legible font. 
How to create a unique identity with pre-inked rubber stamps?
In general, there are numerous ways that will help to make a unique identity with pre-inked rubber stamps.
Wood-mounted stamps are the most time-consuming, least practical, and least user-friendly, notwithstanding their elegance. While pre-inked rubber stamps give a clear and crisp impression. 
The pre-inked rubber stamps are the most adaptable since it enhances style the most and is ergonomically designed to be simple to use. They save time and are easy to store due to their compact size.
Stickers with return addresses can only be slightly customized. They aren't really aesthetically pleasing or fashionable, despite being personalized with font, color, and sometimes a small image of a flower.
Most of the time return address stamps are used by businesses and brands. The return address pre-inked rubber stamps are more streamlined and convenient.
The simplest approach to brand a document with the company's motto or emblem is to use an address stamp. Because the top of every letter may be stamped with your slogan, you won't need to purchase personalized letterheads. Clients can recognize your messages more easily thanks to the logo on the envelope's exterior.
As more people become acquainted with your logo and brand, your branding will become stronger. If you have a positive image, you may be able to build more effective marketing strategies using a subtle approach. It will not be difficult to gain the trust of your clients or potential targets and win the market if you approach them in this manner.
Another advantage of using pre-inked rubber stamps for customer service is their efficiency. Depending on how many orders or transactions you receive each day, it might not be feasible to write handwritten thank-you notes for each one.
Additionally, taking time away from other tasks that need to be finished to decide what to write in each letter. Pre-inked rubber stamps are quite inexpensive when compared to other forms of customer service; they also convey thank you cards much faster and with less effort than sending them by hand.
Pre-inked rubber stamps can be customized and applied to a variety of materials, such as paper, metal, glass, and wood.
Promotional items like stickers, signs, envelopes, and documents with pre-inked rubber stamps can be used. Additionally, personalized address stamps are inexpensive. All you need after paying for the design is cheap, long-lasting ink because inkjet cartridges ultimately run out.
Despite the fact that practically all documents are now available in digital form, many firms still rely on printed materials. In fact, as our reliance on computers increases, so does the volume of paperwork. As a result, maintaining document organisation is a significant task. Pre-inked rubber stamps simplify paperwork by designating and specifying the documents.
Although you could handwrite remarks on the page, utilising a pre-inked rubber stamp avoids the issue of being unable to read someone else's writing. If you stamp on multiple sheets of paper, the final page will be just as clear as the first. It is unlikely to be the case if every piece of writing is done by hand.
You may use your personalised pre-inked rubber stamp to designate each piece of paper so you know where it belongs. In the business world, you can make things easier for yourself by utilising pre-inked rubber stamps with single words printed on them, such as Paid, Sent, or Replied. Pre-inked rubber stamps have the incredible capacity to stamp
People often consider logos, taglines, and the overall impression a brand leaves them with when they think about brand identification, but they are unsure of how to spread the brand in distinctive ways. You can advertise your brand identification and create a unique identity with pre-inked rubber stamps.
Companies that take the time to include their brand identification in printed materials that aren't adverts and billboards are hard to find in today's digital age. With a personalized stamp, you may promote your own brand identity without having to make a pitch.
With a custom stamp, your brand is being creatively and consistently promoted, whether you use it to label envelopes, stationery, or sign documents. Custom stamps are simple to use and efficiently promote your brand.
Additionally, a strong brand identity increases credibility and trust. Companies with strong brand identities typically outperform their rivals in the marketplace. Your brand identification can be enhanced with a personalized stamp.
In order to be successful, your company must have a strong brand identity in every area. One typical error that many businesses make is not completely engulfing their operations in their brand identity. Many businesses rely solely on their logo and tagline in the hope that this will be enough to distinguish their brand from that of their rivals. Unfortunately, this is frequently untrue.
Your distinctive brand identity is continuously reinforced and promoted by having it present in every part of your organization. Custom pre-inked rubber stamps will advance the recognition of your brand for your company.
Comparison between the three stamp types 
The most time-consuming stamps to use are wood-mounted stamps because of how carefully you must utilize them. This is not the greatest choice for anyone searching for an effortless, personalized wedding stamp or for someone who is busy.
There are several designs, fonts, and ink colour options available for pre-inked rubber stamps. Because you can theoretically use a different ink pad for each stamp and there are hundreds of colour possibilities when purchasing external ink pads, wood-mount rubber stamps are not compact compared to pre-inked rubber stamps. Remember that these ink pads are reasonably priced and dry quickly. Pre-inked rubber stamps, on the other hand, have the advantage of long-lasting ink and easy storage.  Self-inked stamps give less stamping impressions when compared to pre-ink stamps which give clear, crisp impressions and last longer.
Conclusion 
One of the key benefits of investing in a pre-inked rubber stamp line for your company is that it does not demand a large financial investment. Simply promote your business in a unique and exciting way while receiving high-quality stamps for a fraction of the cost of other forms of promotion.
In addition to a unique identity with pre-inked rubber stamps, having a personalized stamp manufactured for your firm has practical benefits. If you utilize this method instead of writing down your business address in letters and mail, you will save time and have a fun and creative way to address your outgoing correspondence. Using a stamp instead of a standard printed envelope with your logo and address provides a personal touch that is appreciated.