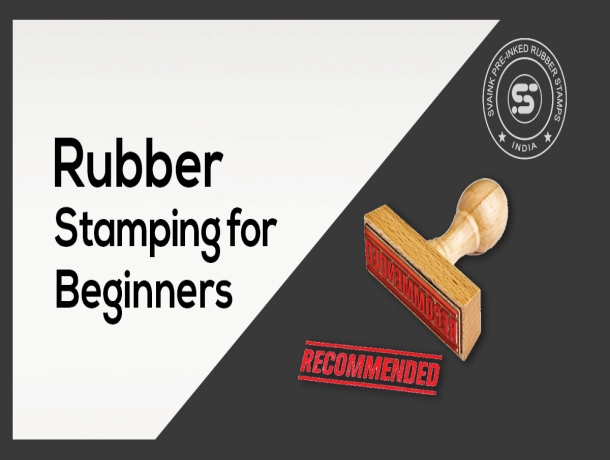 Table of Contents
What are rubber stamps?
Rubber stamps are little rubber printing devices for printing the date, the name of an organization, and other information on documents. The rubber is frequently fastened to a more sturdy object, like a block of wood. An acrylic handle can be utilized to support the vulcanized rubber image. Rubber stamping for beginners will guide you in picking and using rubber stamps in a professional way.
History of rubber stamps
Other nations continue to hand-make the ancient stamps that were in use long before rubber stamps were created. In India, mud is utilized to create moulds that serve as stamps on their own. To create a coloured image that may be stamped on cloth, paper, and objects, colored juice from fruit, flowers, bark, and other plant stuff is added to the mud images. Some societies have also employed animal hides. Thick strips of rubber-like hide that are robust and long-lasting can be carved into intricate impressions.
After Charles Goodyear discovered the vulcanization process in the middle of the 19th century, the rubber stamp was created. It is most likely that British India's first rubber stamp manufacturers date from the late 1870s. Two of the early manufacturers were the Gantz Brothers of Madras and Bloomfield & Co. of Calcutta, who both started advertising rubber stamps around 1879.
Rubber stamps quickly achieved economic viability and were largely marketed to businesses for pricing and date. In actuality, a historic price stamp from around 1886 is among the earliest self-inking stamps still in use.
Materials used for rubber stamps
The components that make up a rubber stamp are not made by rubber stamp producers directly from raw materials. Latex rubber, wood for the mounting blocks, adhesive-backed cushioning to go between the rubber and the block, and adhesive-backed labels are all examples of raw materials. These products are all made by specialized producers, who then sell them to those that make rubber stamps.
Designs for rubber stamps
Many different artists create designs for rubber art stamps. Large-scale producers of rubber stamps employ freelance artists and use original artwork to create distinctive designs that are protected by copyright for both the firm and the artist.
Some manufacturers reproduce previously created works by well-known artists, whose works are then only offered by one producer in rubber stamp form.
While makers of rubber stamps for things like return addresses produce stamps from data supplied by customers, some rubber stamp companies will also create custom designs from artwork provided by the client.
Typically, this data is given to match a template or a predetermined word or letter limit so that numerous stamps can be created simultaneously, even when the contents are unique.
Any type of artwork can be created using a rubber stamp.
Large blocks with word families (such as flower names or greetings) have been produced, and stampers utilize these blocks to create greeting cards, wrapping paper, and other personalized products with a theme or message.
 Manufacturers increase demand for their products by teaching workshops and demonstrating to hobbyists creative uses for these items.
Self-inked and pre-inked rubber stamps
Self-inked rubber stamps
A water-based ink pad that is integrated into a self-inked rubber stamp constantly refills itself after each impression.
A self-inked rubber stamp automates traditional rubber stamping by re-inking itself with a tiny built-in ink pad for each precise impression. Real rubber is used to generate your bespoke dye, which is then applied to your preferred ink stamps. As you produce an impression, your dye will flow back and forth on the inside ink pad of the stamp.
The stamp comes with an initial ink pad, but you may buy extra ink if the impressions start to fade or if you want to switch the colour of your ink. Make careful to only purchase ink that works with self-inked mounts.
Self-inked rubber stamps save time by having the ink loaded before use. As you stamp, the piece of rubber contacts a different stamp pad. You have two options when the ink runs out: refill the pad or replace it.
For each impression, the self-contained ink pad on this type of stamp re-inks the rubber dye plate. Self-inking dye plates are refillable and re-inkable and come in a variety of colours. They use water-based ink for reduced bleed-through. The majority of self-inking stamps have a 5,000 impression life.
Self-inked rubber stamps are generally more expensive than traditional or wood mounts, but they don't need to utilize an additional ink pad and provide dependably even impressions. The clear base found on the majority of self-inking stamp mounts makes it possible to precisely align an impression. For those who require high-quality impressions that are quick, convenient, and clean, self-inking stamps are ideal.
Pre-inked stamps
An ink reservoir for oil-based ink is located behind the stamp on the pre-inked stamp.
Pre-inked rubber stamp mounts produce the most accurate impressions, don't need a separate ink pad, and last up to 25,000 impressions without needing to be reinked. For any need, pre-inked stamps are available in a range of mounts and sizes.
Pre-inked stamps produce consistently excellent impressions that are sharp and clear. As the stamp pad effectively becomes a component of the stamp and the ink flows through the dye plate to create the imprint, this type of mount includes a pre-inked cartridge.
For detailed drawings, like signatures or notary seals, an oil-based ink produces excellent impressions.
Before stamping, you can set the stamp down and align your image thanks to the raised base. Additionally, stamping is practically silent and only needs a little pressure, making it a wonderful solution for a quiet office.
With a pre-inked stamp, no rubber dye is used. These gadgets send your personalized data into an ink-filled container inside the stamp. Only ink from the ink reservoir behind the stamp is allowed to enter through the impression region with this procedure.
Pre-inked stamps can be re-inked with liquid ink. The ink you use on them must match the colour of the first stamps you used. Use only ink produced by the business whose stamp mount you've selected.
What are clear stamps?
Transparent photopolymer is commonly used to create clear stamps, sometimes known as cling stamps, which adhere to clear acrylic blocks. With this kind of stamp, you can see through it for precise positioning, and its somewhat tacky feel helps the ink adhere to even the most intricate designs. Stick the stamp to the acrylic block, ink it, stamp on it, and then clean it as usual before peeling it off once more.
The most popular use for clear stamps is in handicraft and cardmaking. Most acrylic blocks have gridlines that enable precise positioning on both the mount and the intended stamping location. For added creativity, you can even place two or more clear stamps on a single clear mount at once.
Plastic is used to create clear stamps. This is great in terms of price, size, weight, and stamping visibility, among other factors. However, it's crucial to understand and keep in mind that transparent stamps must be kept in cool environments.
To prevent warping, melting, or distortion, be sure to store your clear stamps in a cool environment away from strong sunlight and heat sources.
The transparency of plastic makes even the smallest change in colour or opacity stand out more than it would on red rubber stamps. Various terms, including acrylic stamps, polymer stamps, photo-polymer stamps, and clear rubber stamps, are used to refer to clear rubber stamps.
Rubber stamps vs Clear Stamps
Rubber stamps are the classic stamp that is affixed to a wooden block made of red rubber. To save room when storing them, you can now purchase them without the wooden block.
The benefits of rubber stamps are:
Red rubber provides a clearer image.
They are often already mounted on wooden blocks, making them ready to use.
Red rubber can endure high temperatures and does not shred when acrylic blocks are peeled off of it or when it is pressed into molten embossing powder for deep embossing techniques.
The drawbacks of rubber stamps are
Red rubber stamps are a little more expensive than clear stamps; placement: Since you can't see where you're stamping with them; storage: Wood-mounted rubber stamps take up more space.
Clear stamps
The benefits of a clear stamp are
Clear stamps are frequently less expensive than classic red rubber stamps.
There is no need to pre-mount or otherwise prepare the stamps; they can be used right away with a single acrylic block.
Because the stamps and stamping block are clear, accurate stamp placement is made simple.
Clear stamps are easy to store and don't take up a lot of space.
The drawbacks of clear stamps are
Dust or grime can cause the stamps to lose their stickiness (although washing the stamps in water may help to restore the stickiness)
Compared to typical rubber stamps, many clear stamps produce slightly softer stamped images.
The stamps can shred when they are taken out of the backing since they are soft.
Some of the little stamps can be challenging to use and clean.
Blocks are necessary to utilize the stamps, which might increase the cost.
Rubber stamping for beginners
As a beginner, you need to consider a few points while you are picking a rubber stamp.
Rubber stamps can be used for various purposes. For official purposes, you must include your company logo on your business cards when you create them. This is how you can more effectively spread the word about your company to a large number of people. Additionally, these company stamp seals make it simple to demonstrate authenticity.
Making one's invitation cards is simple when utilizing rubber stamps with different designs. Any of your projects can be enhanced with wonderful decorating to make them even more beautiful and elegant than they already are.
Teacher's stamp can be used for a variety of purposes like checking copies, assigning tasks etc. 
It is very necessary to pick an appropriate stamp based on the needs, a perfect stamp will give a good stamping experience. The stamps are available in a variety of options like clear stamps, rubber stamps, pre-inked stamps, self-inking stamps etc. stamping experience is elevated by the clarity and uniqueness of the stamps. 
Conclusion 
Stamps are required for several tasks like making your wedding invitations with stationery and unique wedding stamps. Make your gift labels and tags for birthdays, Christmas, and other special events. By marking and dating mail as "received" as soon as it arrives at the office, you can improve your office administration tasks and quickly keep track of actual correspondence.
Rubber stamping for beginners will guide the users with the usage and care of a rubber stamp. With a personalized and distinctive rubber stamp that will provide the very best professional image, make your business cards. Even better, you can use the stamp to personalize anything, turning even the little item into your business card.
There are different innovative and user-friendly stamps in the market to choose from for a better and easy stamping experience. You can choose stamps wisely and make stamping fun.