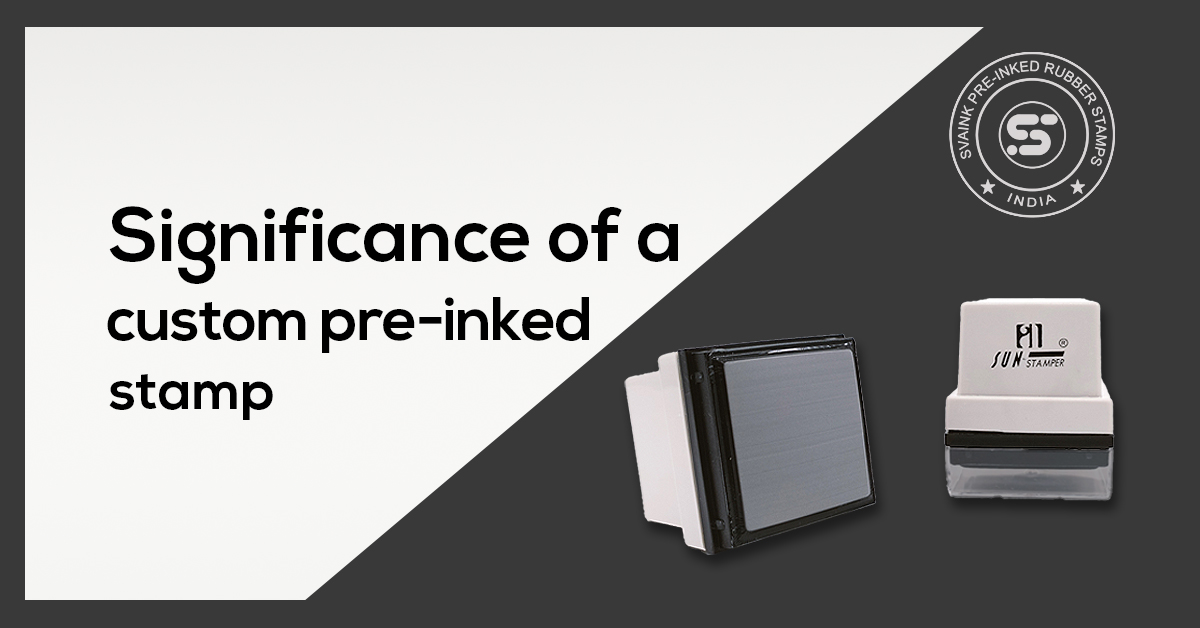 Having a personalized pre-inked stamp made for your company has practical benefits in addition to its distinctive attractiveness. People who want to personalize everything that leaves their firm typically utilize custom rubber stamps.
These stamps can be used to affix them to any type of correspondence or documentation, allowing the recipient to identify the sender even before opening the package. These stamps can also be used to annotate children's stationery and books. There are a variety of stamps you can choose from, like a classic rubber stamp, a self-inked rubber stamp, and a pre-inked stamp.
Pre-inked rubber stamps have enormous significance compared to the other two types of rubber stamps.
Why choose a pre-inked stamp?
You'll save time and have a fun and creative way to address your outgoing mail if you use this method rather than spending needless time writing out your business address on letters and mail. Using a stamp instead of the customarily printed envelope with your logo and address adds a personal touch that clients appreciate.
As you can see, there are many entertaining and useful justifications for getting a personalized pre-inked rubber stamp for your company. You'll create a stronger sense of brand identification and enhance customer brand promotion. Long-term returns on investments in consistent brand growth should be expected, and a personalized stamp is an excellent place to start.
Simply defined, "brand identity" refers to how you want your customers to view your company. There are several ways to market a distinct brand identity for your company, and a personalized pre-inked stamp is one of them. You'll not only have a fashionable and useful means to identify your brand across a variety of correspondences, but you'll also have complete control over the brand message.
Custom pre-inked stamps could be a great way to add your personal touch to the letters, cards, and other goods you send out. Unaware of how much may actually be done with them, many individuals revel in buying a personalized pre-inked rubber stamp.
Pre-inked customized stamps are utilized in various ways 
Custom pre-inked stamp with return address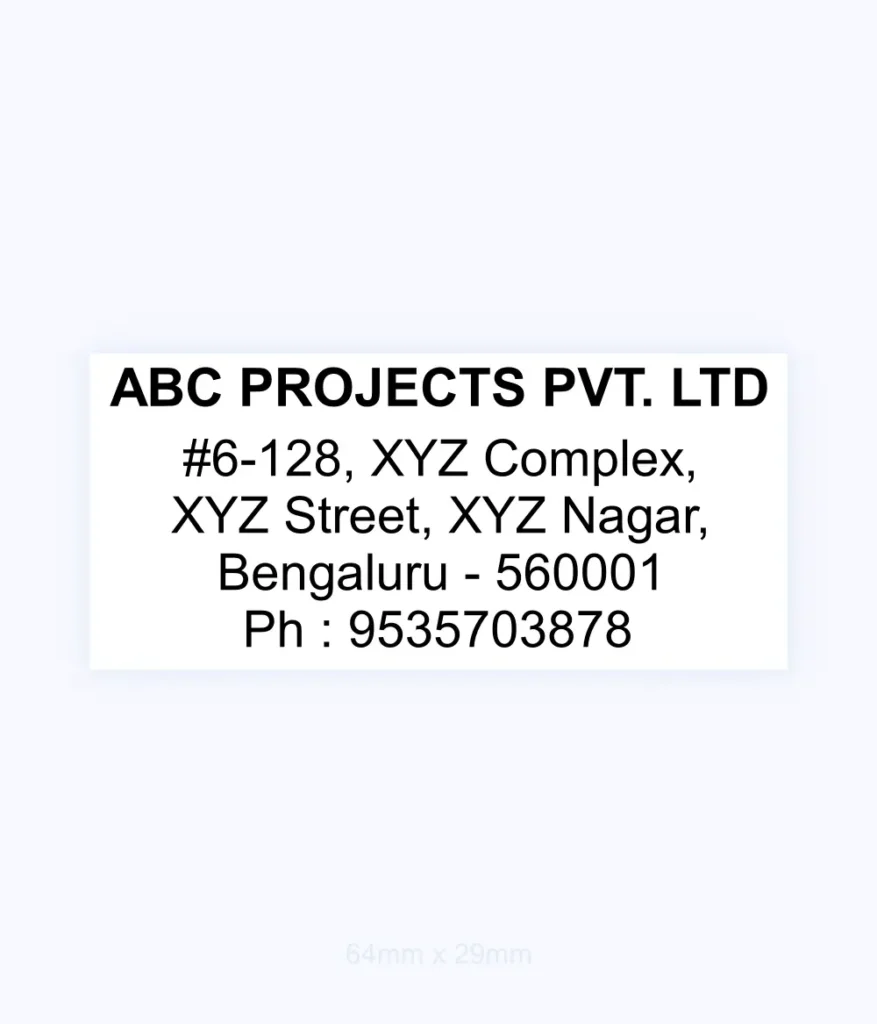 You can use these stamps on your outgoing mail and cards. However, it can also be used to identify coats, backpacks, mittens, skates, books, and other frequently missing objects. This is very beneficial for activities like Boy Scout camp and school field trips.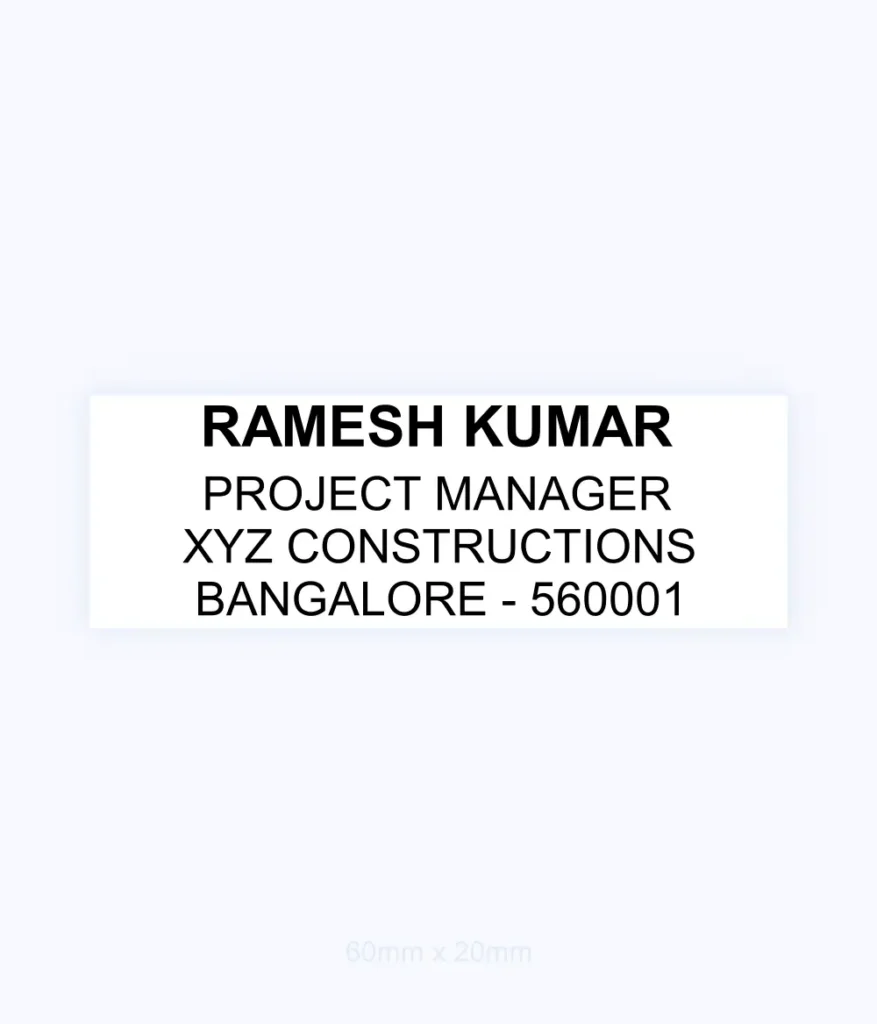 Personalized stamps are used to personalize letters and cards. Personalised stamps are used in various ways like to designate school supplies for your kids, or to designate your personal belongings. 
It can also be used to personalise wedding accessories, for instance, you can add the bride's and groom's names on the stamps, which can be used to stamp keepsakes, napkins, tablecloths, streamers etc. Personalised stamps can also be used to stamp photos of your family members and friends, you can stamp the date on the photos and store them as a memory. You can also order personalised pre-inked stamps bearing your family name and the names of your family members. 
Custom pre-inked rubber stamp with the account number
Many people purchase personalized pre-inked rubber stamps together with bank account numbers to facilitate check deposits. There are a variety of different applications for this style of stamp, though. Other than checks for deposits only, there are a number of documents that may need to be in your account.
For credit checks or direct deposit forms, a bank account number is required. Additionally, it can be necessary for submitting your income tax returns or other financial documents. These personalized pre-inked stamps enable the users to quickly stamp the account number on any document without having to keep track of it or look it up each time.
This is the rationale behind why most individuals prefer to have personalized pre-inked stamps made.
Significance of pre-inked stamps
Starting a business is challenging, as it is with anything new in the business world, especially when you are on a tight budget and need to project a professional image. Custom-printed envelopes, labels, letters, and any other piece of sales collateral are the elegant but pricier method of accomplishing this. Pre-inked stamps can be used to accomplish this.
This type of printing is really affordable. As a result, it's extremely simple to see if it's something that the majority of home company owners decide to perform for their enterprise. Smart and well-educated businesspeople decide to create personalized, high-quality pre-inked stamps to give them a professional image without incurring a significant expense.
Based on the number of characters, size, colour, and ink type, these customized pre-inked stamps are often fairly inexpensive. This indicates that the rubber stamps may include an extremely accurate duplicate of your company signature. This makes it much simpler to sign sale letters and checks.
Reduces waiting time
Given that they are less expensive than the stated stationery, the time-saving features of this product make the entire expenditure completely worthwhile. With consistent use, a single stamp can last for a year or perhaps two before needing to be replaced. You can receive several stamps to use around the office.
Although there are many colours of ink available, the most common ones are black, blue, and red. 
Say goodbye to sloppy ink pads
You no longer need to use those shoddy ink pads that ruin clothing. Today's pre-inked stamps require zero upkeep and don't harm clothing or desk drawers like the ones that were once used.
The percentage of bleeding decreases significantly with the introduction of new inks. Today's inks even out the uneven applications and dry rapidly.
Therefore, for official purposes, every business prefers to utilize pre-inked stamps.
There are a few individually designed pre-inked rubber stamps that might be on the market. These stamps feature specific patterns or looks. The majority of customers might benefit greatly from this stamp. Due to the fact that this instrument provides various benefits for users, numerous people use this stamp. The general population should use this item to make their dreams interesting. All customers are eligible to make use of all benefits likely offered with this stamp.
Compact size
Compact size is one of the features considered during choosing stamps. Compact stamps are utilised mostly during travelling and are regarded as transportable objects. Customised pre-inked stamps are compact in length and shape. These stamps can be stored or carried anywhere without any issues. Due to their portability, these pre-inked stamps are sought after by many people. You can easily customize the desired size as per your needs, and carry and store it wherever you choose. 
Long-lasting ink
A pre-inked stamp has long-lasting ink, which is crucial for all business corporation owners as it will last for a very long time. These customized stamps can be used repeatedly without losing their quality. For the majority of corporations, long-lasting pre-inked stamps are an absolutely essential element. The sturdy, pre-inked rubber stamps significantly increase business owners' revenue. This product can be used by people for a number of years without conversion. Pre-inked stamps are made of sturdy materials that can withstand repeated use for an extended period. 
Multiple uses
Apart from use in offices and for official purposes, custom stamps have numerous uses in other fields. It has a huge potential in a variety of various activities and amusements. These pre-inked stamps can also be used to create unique cards and outfits based on your creativity and plans. Custom stamps are widely used on letterheads and inadvertent correspondence. These pre-inked stamps add life to speciality works. They leave an enduring and stunning engraving on photo albums and scrapbooks. Additionally, these stamps can be used to imprint designs on sturdy materials like wooden furniture and jewellery boxes. 
Conclusion
Pre-inked stamps provide a way to keep overhead low while providing a low-cost alternative for the repetitive side of the business in today's environment, where we are all looking for cost-reducing and practical ways to keep our businesses profitable. They provide a simple, accurate, and speedy quotation as well as a quick and speedy shipment.
Stamps are used all over the world to display different messages and symbols of specific foundations and organizations. A pre-inked stamp can be seen as a recognizable mark or impression that people or businesses use to refer to particular updates.
In the age of digitization, there are so many reasons why you will need a pre-inked stamp for your company that it may not seem necessary to invest in high-quality outdated office supplies.