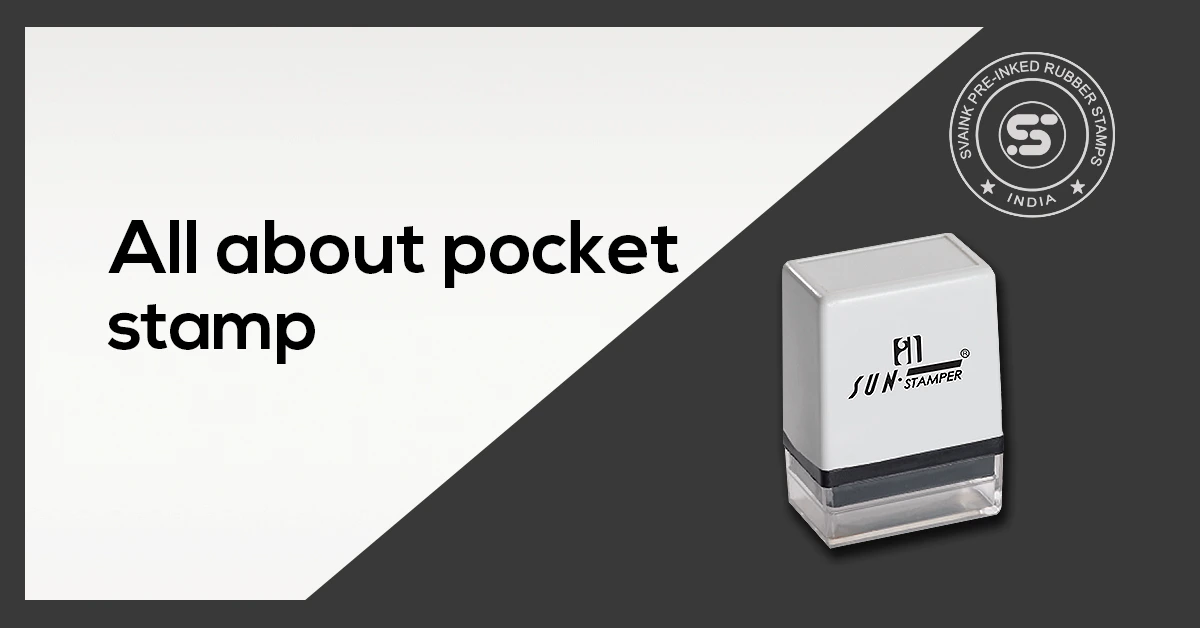 Table of Contents
The pre-inking pocket stamp is tiny and straightforward to use. Because they are quick and easy to use, a pre-inking pocket stamp is the best on-the-go solution for verifying documents, receipts, addresses, and more. It is simple to create your pocket stamp online, making it perfect for business owners, independent contractors, and professionals.
You don't need to carry a separate ink pad when using a pocket stamp with a small, compact shape because it already has an ink pad built in. Pre-inking pocket stamps not only produce crisp, clear impressions but also take up very little room when travelling.
Choosing an ideal pocket stamp
Just pick a design or upload all of your artwork. You can pick from a range of fonts, texts, and designs when creating your own pocket rubber stamps. These pre-inking pocket stamps may be customised from the comfort of your home and will be sent to your doorsteps with the press of a button after being carefully picked from the best.
Ascertain the image's good resolution – When printing small amounts of information, such as your name and address on a check or a doctor's information on a prescription, A little pre-inking pocket stamp is convenient and transportable. Although they will create more imprints than their bigger stamps, such as the full-sized pre-inking pocket stamps, the pocket stamp's versatility is unmatched.
Benefits of customized pre-inking pocket stamp
The customized pocket stamp is the ideal marketing tool for small businesses looking to expand their customer base and raise brand recognition. They can be used for a variety of things, such as labelling goods and mailing letters, packages, invoices, and shipments. 
These stamps are not only a necessity for office work but also a low-cost method of brand promotion.
A customized pre-inking pocket stamp can reduce your expenses and help you save money.
You don't need to buy a lot of pocket stamps because you can be confident that each one will be used only for that one task. As a result, you don't need to be concerned about wasting company resources.
Being able to employ bespoke pre-inking pocket stamps with any colour ink pad of your choice will significantly reduce your costs. Because all it takes to make your personalised pre-inking pocket stamp design look fresh and new is a simple colour adjustment, you are not limited to using only one or two ink pads.
The time saved using a pre-inking pocket stamp can be used to finish other crucial duties, like reaching out to potential customers or taking care of your company's ongoing administrative tasks. Small businesses especially benefit from this because it enables them to operate as effectively and efficiently as possible.
When dates need to be stamped on documents, the procedure can be time-consuming if done by hand, but using a personalized rubber stamp can quickly cut down on the amount of time needed to complete the operation. Due to the fact that you won't need to put the date on any document, using a rubber stamp will also guarantee accuracy and consistency.
The same is true for receipts, which must be stamped when given out in order to be later, if necessary, validated. It would take a lot of time to do this manually, and the information that would be entered on each receipt might not always be correct and consistent. However, there's no need for any handwriting at all when employing personalised pre-inked stamps for these applications. It is quick and simple.
Because they are so versatile and simple to use, the personalized pre-inking pocket stamp is the perfect answer for preserving records at a business. Keeping track of paperwork might be difficult as your business expands, but personalised pre-inking pocket stamps make it simpler to locate the exact document when you need it.
Keeping track of paperwork might be difficult as your business expands, but personalised pre-inking pocket stamps make it simpler to find the exact document when you need it especially when you are travelling and need to manage documentation.
By enabling you to design several pictures that represent various types of files or documents, the personalized pre-inking pocket stamp can help you keep track of paperwork. Consider having a filing cabinet where you save all of your contracts or invoices. Then, without having to open every file drawer first to determine which one includes them, you can immediately identify which file drawer has those particular types of papers by applying a customized rubber stamp with an image of an invoice or contract.
The ability to create many versions of the same stamp so that there are always enough copies available for any type of record-keeping demand is another way that these stamps make managing records easier.
A lot of businesses also require personalized pre-inking address labels to be placed directly on the envelopes holding letters sent out from customers' Thanksgiving cards during the fall season, among other things besides making copies. Both of these circumstances call for some kind of adaptability and modification on their end as well!
When ordering these products online, these two factors ensure that everyone within an organization receives exactly what they need, whether it's through a convenience program with an automated system coupled with ease of use through a user-friendly interface design that further simplifies the usage process.
Furthermore, with personalised rubber stamps, you can quickly construct a mailing list of your clients or visitors, allowing you to stay in touch with them. You can stamp their receipts with a stamp that collects crucial data such as their name and email address so that you can deliver newsletters and promotions directly to their inbox. It will save you time and money because you will not have to pay for mail delivery and will only have to type an email once instead of hundreds of times.
For customer service objectives, personalized pre-inking pocket stamps can be helpful. With a personalized pre-inking pocket stamp, you may add a special greeting to each order or purchase, Your consumers will value the personalized service, and they might decide to come back again in the future.
Conclusion
The custom pre-inking pocket stamp is lightweight, quick, and portable. Efficiency is another benefit of pre-inking rubber stamping. Depending on the design you select, Pocket Stamp come in circular or rectangular stamps and is good for up to 50,000 impressions.