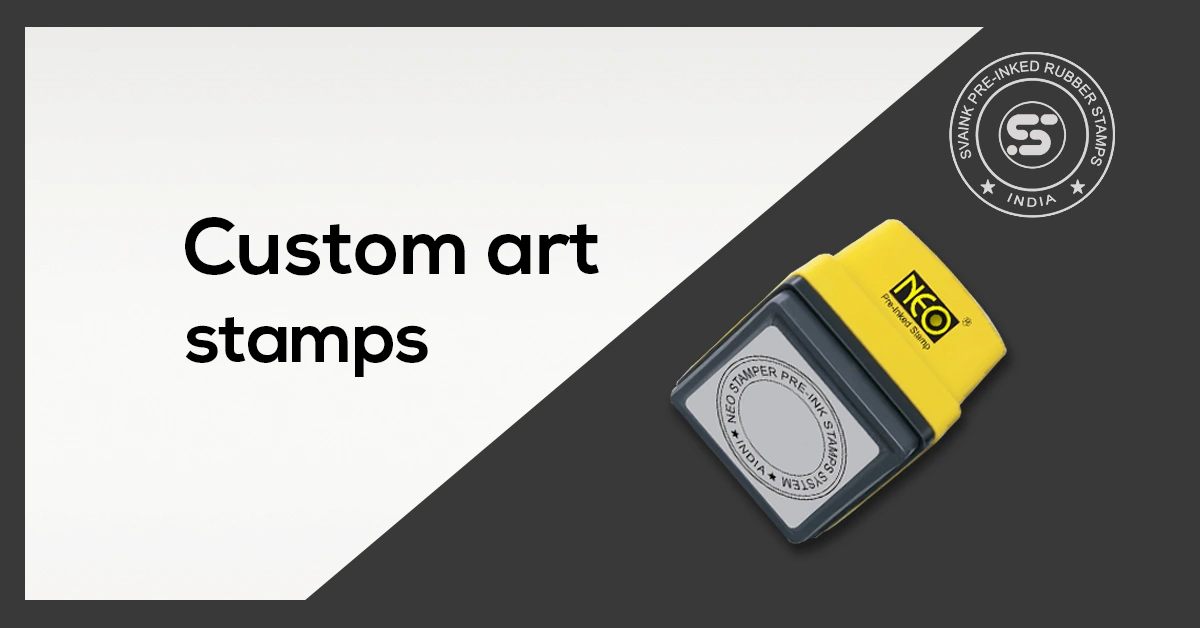 Table of Contents
You can use your custom art stamps imprint for extra detail on your art piece. Making your own decorations, designs, works of art, and commercial goods can be enjoyable, time-efficient, and cost-effective. There is no need to go for expensive branded things when there are inexpensive alternatives and inventive ways to make something yourself. Substantial rubber stamp is more than simply office supplies. You can design and utilize your own rubber stamp for a wide range of projects, whether they are for personal or professional usage. The best part is that it is cheap and simple. Significance of custom art stamps are basically utilized for creative purposes like designing and making artistic projects. 
Significance of custom art stamps
Whether you are a small business or create art as a hobby, custom art stamps can help elevate your projects. Rubber stamps can be used as a guide for drawing, painting, and crocheting.
Save money by making an accent wall yourself. Measure your wall before drawing a cute and original backdrop for your room. Simply use custom art to stamp impressions in the desired pattern repeatedly. Imprint your design on peel-and-stick wall decals for removable designs you can modify if you're not ready for that commitment!
Customize the furnishings in your house, business, or bar with your own special touches. On wood, rubber stamps leave a strong mark. With a customized design, dressers and side tables will come to life. Identifying your wooden chairs or coasters and stamping them with your favourite design is one of the significance of custom art stamps.
For polished finishing touches that stand out, brand your restaurant's name or emblem onto wooden coasters or seats. You and your kids can stamp personalized wooden decorations or keychains to use all year long or just for the holidays as enjoyable wooden crafts at home.
Send out product packaging that reflects your company's image. The company logo and address can be branded on a variety of marketing materials with the help of custom art stamps. Put your logo on menus, flyers, punch cards, to-go boxes, paper bags, product tags, and more. This straightforward and cost-effective branding option aids in promoting your expanding company.
Different stamp designs will suit your needs best depending on what you plan to use them for. Browse carefully and pick the right collection of the big, wood handle, and pre-inked stamps. For address stamps and signature stamps, you can go for ready-made designs. You can also go for giant custom logo stamps and custom art stamps if you want to hone your creative skills.
Self-Inking stamps
Ideal for quick, precise, accurate stamping. The ink color of your choice is already present in the stamp body of these self-inking stamps. Before needing to be reinked, a self-inking body produces hundreds of high-quality impressions. These stamps are perfect for repetitive stamping and are frequently used for dater, signature, and address stamps, among other things.
Pre-Inked rubber stamp
For prints with intricate designs and details, use pre-inked custom art stamps. Pre-inked custom art stamps have an internal ink reservoir that enables the ink to seep through the body and onto the rubber dye. This design is excellent for detailed imprints and would be fantastic for unique projects and works of art.
Custom art stamps with a wood handle
The handicraft industry is where this traditional kind of stamping is most popular. A classic wood stamp's outstanding feature is how simple it is to change the color of the ink used for the imprint. Rubber stamp made of wood is simple to maintain, amass, and use to imprint each stamp with a unique impression. When you push the wooden stamp body against your project and stamp pad, the rubber design that is attached to it leaves an impression. The use of eco-friendly packaging and wrapping is one of the newest innovations in sustainable living.
Uses of custom pre-inked rubber stamp
So rather than ordering pricey packaging with a printed logo on it, we advise using the standard rubber closure. It will help your clients and consumers save a tonne of money while also making them happy.
Stamp your envelopes with your company name and emblem so that your consumers will recognize the correspondence as coming from you and not as unending spam.
The company name and logo should appear on all boxes, envelopes, gift tags, and anniversary cards to establish a strong connection between your brand and the good feelings of your employees.
It is better to make the party about your brand rather than merely an occasion for eating and drinking. Add a stamp and an impression to the invites.
People will eternally associate this lovely event with your brand when you stamp the invites and add the impression to the napkins, place cards, modest gifts, official papers, etc.
Most owners make the grave error of underestimating the influence of the stamp designer and the significance of the tiny self-inking instrument. While everyone else is squandering money on ostentatious decorations and pricy packaging, raise the bar for your brand right away.
Conclusion
The significance of custom art stamps is a really creative approach to developing your personalized goods or designs while also saving you time and energy. The custom art stamp is a dependable piece of equipment thanks to the many stamp mount options and simple re-inking procedure.