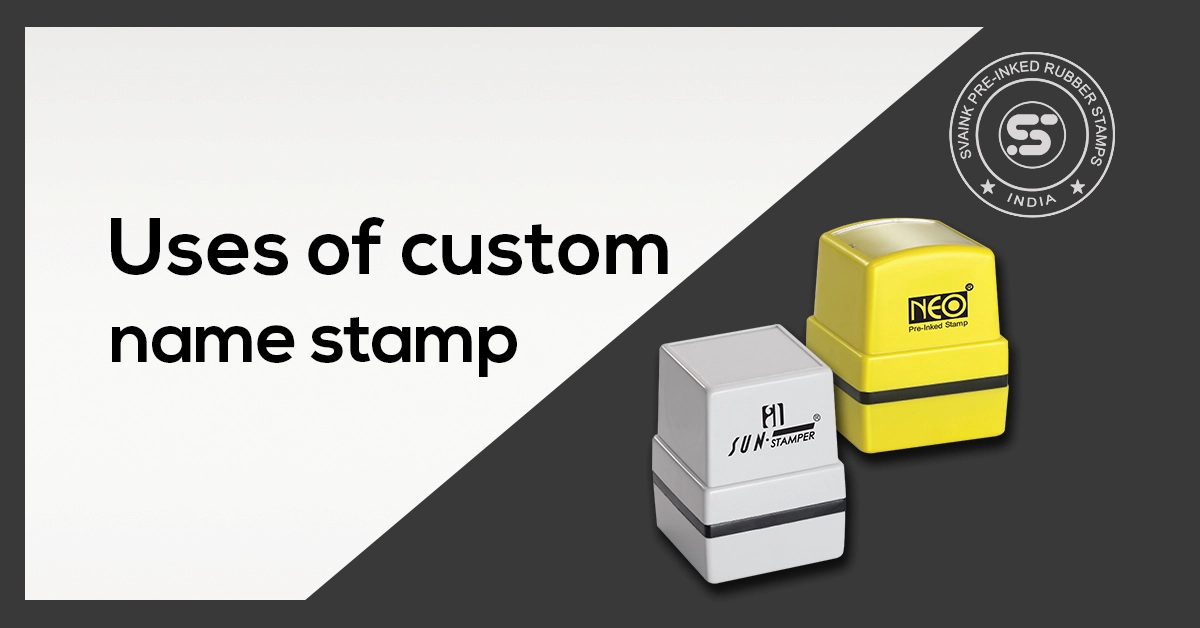 Table of Contents
Personalizing papers, letters, files, labels, and all other types of personal and professional documents is quick and simple with the uses of custom name stamps. There is a huge selection of rubber stamp that is entirely individualized with your name, from logo signature stamps to creative artwork name stamps.
Types of custom name stamps
There are numerous personalized custom name stamps that can help you accomplish your goals, whether you're looking to quickly sign documents with your signature or you want to add your distinctive monogram to your mail.
Signature custom name stamps
With a single swift stamp, signature custom name stamps enable you to clearly and quickly approve papers and documents. There are numerous signature stamp possibilities available, in a range of sizes and designs.
Stamps with traditional signatures: This traditional stamp design makes signing paperwork and documents simple, quick, and efficient. Simple signature stamps can help everyone, from professionals with hectic schedules to persons who have difficulty writing by hand.
Signature and date stamps: These editable stamps have adjustable date bands, allowing you to stamp your signature and the proper date on all of your papers quickly and precisely.
Signature and a printed custom name stamp – Stamps with your printed name above or below your distinctive signature are available as a signature and printed name stamp.
Numerous self-inking, pre-inked, and wood-handle models of signature stamps are available in the market. We advise choosing a pre-inking stamp for speedy, repetitive stamping of your signature.
Benefits of signature custom name stamp
For many different kinds of personal and business endeavors, signature stamps can be useful. Some of the most well-liked applications for your personalized signature stamp are listed below:
Approving documents and signing cheques.
Signing off on letters and cards as soon as possible
Filling out forms quickly
Ensuring crisp and consistent signature impressions to prevent handwriting difficulties
A quick and easy way to create impressions of your distinctive initials is with initial stamps. They resemble signature stamps. Initial stamps are a portable, easy, and practical way to make your imprint, whether you're a professional on the go or searching for a way to quickly designate your personal belongings.
Initial stamp
Your initials show off your distinctive handwriting and signing mannerisms. Just as simple to make as a personalized signature stamp is a custom initial stamp that represents your unique initials.
Customizing an initial stamp
Sign your name with distinct initials.
Sign your initials in a size that is comfortable for you and is clearly legible.
Upload your initials in one of the file types we allow to your bespoke initial signature stamp order.
Choose the ink colour you desire.
Monogram custom name stamps
Using monogram stamps to stamp your initials, address, and other personal information is a fashionable option.
You can personalize two main categories of rubber stamps with your distinctive monogram:
Classic monogram custom name stamps: This kind of personalized rubber stamp just has your monogram and does so in a distinctive style or layout. Stamps with a classic monogram are an easy and fashionable way to designate, A simple and fashionable way to add your initials to crafts and do-it-yourself projects is with a classic monogram custom name stamp.
Address stamps with monograms: Address stamps with monograms display your own monogram together with other details like your name and address. Popular for quickly addressing cards, packages, and other kinds of correspondence, this stamp type is used frequently. Due to their quick impressions, pre-inking stamps are the most common stamp type for monogram address stamps.
Benefits of monogram custom name stamps
Monogram custom name stamps can be used for a variety of tasks, from beautiful stationery to do-it-yourself crafts. Here are a few of our favorite uses for personalized monogram stamps in daily life:
Simple Return Addressing: Adding your return address to all of your outgoing mail is made easy, fashionable, and convenient by using monogram address stamps. To ensure that all of your mail is addressed correctly, choose your favorite design and enter your own address.
Stylish Stationery: Use your monogram to make DIY stationery! Making your own personalized stationery is simple and quick with monogram stamps.
Customized Crafts & DIYs: Personalize all of your DIY endeavors by adding your initials and monogram. All of your personalized crafts may be personalized with your initials using a straightforward monogram custom name stamp.
Monogram library stamps: You can personalize your library with monogram stamps. To ensure that each of your books always makes its way back to your personal library and never goes missing, simply stamp your monogram on each one.
Instructions to create custom name stamp
Here are step-by-step directions for making your own name stamp:
Choose the type of stamp: Custom name stamps are available in self-inking, pre-inked, and wood handle styles. Choose the stamp type that best meets your needs.
Choose the right stamp size: Custom name stamps come in a number of sizes. When deciding on a size, consider how you intend to use your name stamp.
If you acquire a pre-inked name stamp, you can choose the colour of the ink used for the stamp impressions.
You may quickly make your own name stamp using distinctive fonts, patterns, images, and logos.
Using your favorite typefaces, create a name stamp that expresses your personal style.
You can combine your name or monogram with distinctive design elements.
Upload images or your company logo to give your name authority.
Kid's custom name stamps
Customized kid's address stamps feature your address, contact information, and the name of your child. Sending out birthday invitations, thank you notes, and other sorts of correspondence is made easy with the help of these cute personalized return address stamps.
Kid's Artwork Name Stamps: To keep all of your child's artwork, drawings, and crafts dated, use these personalized custom name stamps with their names and movable date bands.
Clothing custom name stamps: Clothing custom name stamps are perfect for labeling clothing for school, sleepovers, and summer camp.
Uses of kid's custom name stamps
There are several kid-friendly uses of custom name stamps. The most well-liked applications for your child's name stamps are listed below:
Put your child's name in cursive on their creations.
Make sure your child's name is clearly labeled on all school projects.
Send out party invitations, letter-writing to pen pals, and all other kinds of snail mail with a personalized kids' return address stamp.
To prevent it from getting misplaced at camp or school, stamp your child's clothing with their name and contact information.
Give any imaginative child who enjoys DIY projects and crafts personalized custom name stamps.
Label your child's folders, books, and other personal items that can be easily lost with your name.
Uses of custom name stamps
Your at-home tasks and activities can be made simpler and more effective by the uses of custom name stamps.
The use of signature stamps can speed up and simplify routine procedures like signing for goods.
Custom return address stamps with a monogram let you send out correspondence with style.
Toys, containers, and personal possessions for children can all be personalised with name stamps. To make organising easier, make a unique name stamp for each member of the family!
To ensure that all of your child's belongings and clothing are properly labeled, use clothing stamps.
Custom name artwork stamps may transform projects and artwork into mementos.
The uses of custom name stamps can also make your professional activities more efficient.
Sending out professional mail and parcels is simple with address stamps. An address stamp with your logo on it can further promote your brand!
Make personalized rubber stamps with the names of your teams or departments for simple management of vital documentation.
Initial stamps are a quick and easy method to put your official seal on all kinds of professional documents, add your initials to documentation, and give your stamp of approval.
By clearly imprinting your child's name on all of their school supplies, you can prevent the loss of their personal belongings.
Label your child's lunchbox or bag tags with customized children's address stamps in a variety of whimsical styles.
For plainly displaying your child's name on assignments, notebooks, homework, and folders, simple personalized text stamps are fantastic.
Conclusion
The uses of custom name stamps have a wide range of personal and professional applications. If you want a stamp that is made to last, custom pre-inked stamps are the ideal choice. The stamp doesn't need to be turned over between each imprint because the ink is already built into it, making it perfect for high-volume stamping requirements.